Electronics Recycling Shasta Cascade Area Drop-off Locations
All Green is a certified e-waste recycling solution provider that operates in this particular location presently. Our Electronics Recycling Shasta Cascade Area Services are designed to cater to the needs of the customers in the following counties:
If your city is not listed above or you're far away from the nearest drop-off location, then request a pickup from your home or business by following the link below.
Nationwide Processing Centers
We're a leader in the e-waste recycling industry. Our expertise is to recycle, reuse, and remarket obsolete and end-of-life electronics. Our network of recycling partners and processing centers is so wide and extensive. Our main facilities are located in Southern California, while we also have partner's facilities in North America. We promote "Green Environment" by which we anchor our main goal to help manage solid waste that includes electronic disposables.
Recycle Electronics Today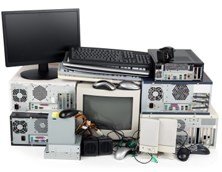 Recycling EOL electronics should be done in a simple and eco-friendly process. Our recycling treatment procedures are tested already. We have this objective of producing a new stream of refurbished items that can be used again through reselling or donation. We always act according the principles behind "Reduce, Reuse, Recycle" Practices and Policies.
Computer Disposal
Old desktops or laptops must not find their way to the landfills. They must be recycled and reused to reduce the impact of too much metallic unearthing. We have a program known as IT Asset Remarketing which can help you gain as big as 70% from the total resale revenue. The collected items from your home or office will be shredded (to delete the sensitive files) and will be refurbished to increase the resale maximum value. The materials to be sold again will include copper, aluminum, iron, glass, plastic, shredded circuit boards, precious metal mix, and other precious materials.
Contact us right now to learn more details and information about our services.