Electronics Recycling Wheatland Services By All Green
Millions of tonnes of electronic waste products are discarded and abandoned year after year. This phenomenon has triggered some severe environmental and mankind issues to escalate continuously. If this persists this world will suffer extremely a few years from now. So it's important if we adopt a responsible electronic waste recycling system. All Green Recycling is a trusted company that offers reliable and credible 
Electronics Recycling Wheatland Services
. With our premium-graded services you can easily address all your electronic trash concerns.
Wheatland, California
Wheatland is a small city in Yuba County with 3,456 residents. It is home to the Sleep Train Amphitheatre, a large open-air venue for music and other performing artist.
Recycle the Following Items Responsibly
Recycle Electronics Today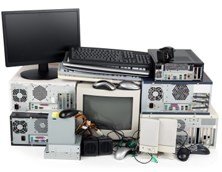 A legitimate electronic waste recycling program is what you truly need to help address the existing environmental issues due to toxic EOL IT equipment. You have to understand that old computers and other devices should not be thrown out in the landfills. They contain mercury, lead, zinc and other hazardous metals. Hence they must be managed and handled accordingly.
By scheduling our free-of-charge electronic waste pickup service you're taking the very first step to enjoy our credible, legitimate services. We're doing this business for more than 10 years already. Our track records have been tested over time. If you can't schedule a pickup service you can choose one drop-off location that is near to your house or office.
Reliable Wheatland Electronics Recycling
Are you now ready to take the first leap towards the achievement of your business goals? We have premium electronic waste services listed down below.
Please feel free to contact us today for more details and information about our company services.