Electronics Recycling Waterford Services By All Green
You must ensure that your old and obsolete electronic items are properly disposed of. Otherwise you will contribute to their negative effects to the environment. The depletion of our natural resources are also attributed to the lack of proper know-how in recycling, reusing or remarketing the EOL IT equipment. So instead of throwing away the tech products that are no longer useful to your end, why not recycle them with the help of All Green Recycling? We are a tested company that operates in the e-waste industry for many years. Being a reliable solution provider is one factor why you have to try our
Electronics Recycling Waterford Services
.
Waterford, California
Waterford is a city in Stanislaus County located along the Tuolumne River. This city is known for its peculiar and humorous quirks, including businesses named Blockmaster Video, Dizzy Dee's Dumpy Diner, and the Bait Barn. It was also home to an interesting landmark called the Cup Tree, an oak tree adorned with over 2,000 mugs. The tree was removed in 2010.
List of Tech Products You Can Recycle Responsibly with Us
Recycle Electronics Today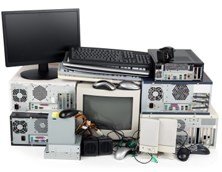 Throwing away any old electronic gadgets in a garbage is prohibited by laws. The government has worked hard to pass laws and regulations and to get them approved for implementation. There are stiff fines now to those who are behind in the irresponsible dumping of electronic waste in the landfill spaces.
Furthermore the lack of observance with the existing e-waste policies and guidelines can detriment your business. So if you can to protect your business, you should try our electronic waste system. We're in this industry for several years already. We know how to handle and manage exactly your electronic disposables through our transparent and centrally managed ITAD solutions.
Premium Waterford Electronics Recycling
Our e-waste services should be tried. There are three main reasons why. First we're professional in this field. Second our experience is matchless. Third we have a wide network of electronics recycling partners and agents all over North America.
Choose a service you need from the list below.
Contact us now for more information about our company.