Electronics Recycling Hamilton Heights Services, NY
Recycling electronics in Hamilton Heights is easy with the presence of All Green in this area. Our Electronics Recycling Hamilton Heights Services serve as a tested e-waste recycling solution that can give you ease and convenience. As business people and residents in this neighborhood that is between Manhattanville and Washington Heights in Manhattan, New York, wonder what to do with their electronic waste, we are ready to help them recycle their disposable electronics. Starting today, you can keep Hamilton Heights and the neighboring communities clean and e-waste free. Just follow the link given below to schedule an e-waste pickup.
Recycle Electronics Today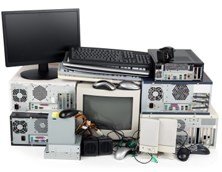 There is an enormous category of items behind electronic waste. All Green has the tested approaches to recycle any electronic devices right from your office or home. By scheduling a pickup today, or by finding a drop-off location near you, you're helping the environment avoid the impacts of irresponsible dumping of toxic electronics. Old computers and other end-of-life IT products have mercury, lead, cadmium, and other hazardous metallic elements. They must not reach any landfills in the country, or they must not be transported in the dumping sites abroad for irresponsible e-waste accumulation. Instead, our electronics recycling system is the ultimate answer.
Hamilton Heights Locations
Hamilton Heights and the neighboring places can reap the benefits of our IT asset disposition program. Your business needs safe and secure ways to collect, repair, refurbish, recycle, repackage, remarket, and even donate the obsolete IT equipment. You have to understand that careless disposal of unused technological products can cause unwanted liabilities and consequences. Hence, our goal is to protect your business brand. 
Nationwide Recycling Centers and North American Asset Remarketing
We have many partners all over the country. They are all professional e-waste recyclers. We also have qualified agents who know how to handle and manage your disposable electronics. Our IT asset centers have world-class and modern facilities. On-site and off-site, we can serve you better through our hard drive shredding and data destruction that is highly secure and fully certified. 
We serve not only the U.S. territory but also the other countries in North America. This fact makes us one of the most trusted companies in the e-waste recycling industry. Our services come into play beyond risk management. As the impacts of throwing IT garbage irresponsibly has become a hot topic these days, remarketing your still useful old electronic device is the ultimate solution. 
Contact us today for you to get your free quotes of our Electronics Recycling Hamilton Heights Services in New York.