Electronics Recycling Gateway Cities Drop-Off Locations By All Green
All Green has offers Electronics Recycling Gateway Cities Services to cater to all electronic waste needs of the people here. The cities below are where our services are made available.
If your city is not listed above, or you're really far from the nearest All Green drop-off location, then all you have to do is to request a pickup from your home or business by following the link below.
Recycle Electronics Today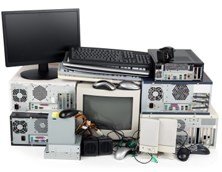 Recycling old electronics is an effective way to protect the environment. The uncontrolled and irresponsible dumping of e-waste is one of the major causes of global warming. Electronic products that are obsolete contain high level of toxic materials, such as lead, copper, nickel, mercury, and cadmium. They must therefore be recycle, reused, and remarketed.
We always do our services in line with the "Reduce, Reuse, Recycle" policies and practices. This is to help in the protection of Mother Earth. We're always compliant with all existing EPA regulations and guidelines to make sure that we handle all EOL IT equipment correctly.
List of Items You May Consider Recycling:
Computer Disposal
All computer products should be recycled and reused, instead of being dumped in the landfills here or abroad. The irresponsible dumping can lead to severe environmental issues and concerns. That's why if you have desktops, laptops in your basement or stockroom, you need to try our Electronics Recycling Gateway Cities Services. Our expertise in this field is already tested through the years of excellent service. By relying upon us, it's easy and convenient to manage and handle all your e-junks.
You need All Green's tested data wiping and degaussing. We will destroy the disposable hard drives of your computers to make sure that no sensitive data and information will leak for public viewing and unauthorized use. Our data security approaches have been proven as safe, secure, and certified. Our equipment is modern and can surely shred hundreds of hard drives within a short period of time.
Nationwide Processing Centers
If you want to enjoy premium e-waste solutions, our offers should be tried. We not only operate in the U.S. as we also cover the entire North America. Our network of recycling partners and service field agents is so extensive.
Our facilities are modern. There, we conduct equipment destruction as well as off-site hard drive shredding. If you want to know more information and details about our offered services, you can contact us today.