Electronics Recycling Cudahy Services By All Green
In Cudahy, recycling electronic disposables is pretty easy and simple. All Green has an efficient way to help you recycle and remarket your IT equipment through Electronics Recycling Cudahy Services. All e-wastes can be managed and handled well.
Cudahy is a city located in Los Angeles County and is part of the Gateway region. In terms of area, it is the second-smallest city in the county with one of the highest population densities of any incorporated city in the United States. With our offered services, you can easily help keep this city clean and free from all types of e-waste.
Recycle Electronics Today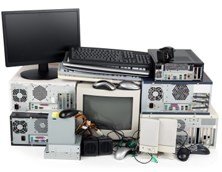 With All Green Electronics Recycling, all electronic devices will be recycled, reused, remarketed and even donated to some charitable organizations of your choice. We have a tested solution that many have been enjoying over the years. So kindly schedule a pickup today, or you may find a near drop-off location.
Remember that throwing your electronics in the trash bin is not good. You have to practice proper recycling because they are highly toxic and are therefore harmful to the environment. The mere thing we can guarantee is that all disposable electronic devices will neither reach the landfills of the country, nor will be transported overseas for improper dumping.
Cudahy Electronics Recycling Location
What will you do when your IT equipment has come to an end in terms of service? So easy. You will have to rely upon our e-waste recycling solutions, and, for sure, you will benefit a lot. We have an IT Asset Remarketing, from which you will gain as much as 70% from the total net profit after a successful resale. We will shoulder the refurbishing and repair cost. You don't have to spend your own money for this.
Our secure data destruction and hard drive shredding process will make sure that all sensitive files and information found in your disposable hard drives will be deleted permanently. This is important as far as protecting your business integrity is concerned. So you have to contact us now for you to get the free quotes of our services.