Drop-off Locations of Electronics Recycling Sierra Nevada Area Services
The counties listed below are where All Green Electronics Recycling Sierra Nevada Area Services can cater to.
If your city is far from the counties listed above, or far from the nearest All Green drop-off location, it's time for you to request an e-waste pickup from your home or business by following the link below.
Recycle Electronics Today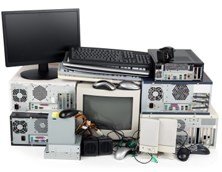 Disposable electronics, also known as e-scraps, is dangerous when thrown out and stored in the landfills. The right measure should be to recycle them correctly. This is the focus of All Green, a certified e-waste recycling solution provider that operates not only in the U.S. but also in the entire North America. We will collect your EOL IT equipment right from your home or office, and then we will transport them to our main facilities in Southern California for the necessary treatment processes. Our main goal is to reproduce a new set of useful and marketable IT products.
List of Items You May Consider Recycling:
We do responsible e-waste recycling. Instead of throwing your e-scrap in the trash bin, just allow us to make sure that your old computers, telephones, cell phones, and other electric-run products will be handled well in terms of proper solid waste disposal. All our services are certified and secure. You don't have to worry because we're expert in providing the so-called premium ITAD solutions.
Computer Disposal In Sierra Nevada Area
All computer items must be recycled. Otherwise, they can cause environmental problems. If not the whole part, the sub-parts of every computer will be used again. They will be evaluated to make sure that their benefits will be enjoyed after the refurbishment and repair procedures. Then because of vulnerability of the hard drives to leak personal and sensitive data, they must be shredded through our on-site and off-site hard drive shredding.
Nationwide Processing Centers
We're in this industry for years now. Our expertise has been molded through the years of excellent service. We have an extensive network of recycling partners and agents. Thus, you can entrust us your e-waste recycling problems wherever you are in the country and even in North America. Our IT Asset Remarketing can pave the way for you to earn 70% from the total net revenue after a successful IT product resale.
Contact us now and learn more details about our Electronics Recycling Sierra Nevada Area Services.