Electronics Electronics Mariposa County By All Green
If you want to recycle your old computer or a mobile gadget, All Green Recycling is a company with certified services. Our
Electronics Recycling Mariposa County Services
are proudly offered to help business entities and residents recycle and remarket their old electronics. We've been in this industry for many years. Our experience and track record is already proven.
Mariposa County is a small county located in the western foothills of the Sierra Nevada mountains. The eastern half of the county contains Yosemite National Park. Although there are no incorporated cities in this county, it is home to several census-designated places including Mariposa, Midpines, Yosemite Valley, Lake Don Pedro, and Greeley Hill.
Do you want to help keep this county clean and e-waste free? We have the answer for you. Our recycling services are always ready for you.
If your city is far from the nearest drop-off location, then request a pickup from your home or business by following the link below.
Recycle Electronics Today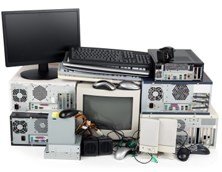 Our electronics recycling process is a pretty simple. We always assure that we will execute the recycling processes in an eco-friendly manner. There'll be no any risks as we treat, process all old and used electronics. Rest assured we'll be giving our best while seeing to it that a new stream of useful materials is produced out of those disposable IT equipment. Our main objective is to collect the disposable IT products from your home or office. We will bring them in our centers with world-class facilities to make the necessary actions.
As we already operate in the industry for years now, All Green has been recognized as one of the top leads in e-waste recycling and used IT materials remarketing. We believe in the idea of "Reduce, Reuse, Recycle" System. Hence, we always adhere with the EPA policies and with the best e-waste recycling practices. We aim to serve the environment through our world-class IT asset disposition services.
Mariposa County Electronics Recycling
Recycling old electronic devices is a crucial thing to do. You should not rely upon the services of those untested companies in the country. All Green has tested ways that will surely make your old computers, iPhones, and other gadgets useful again. 
The sensitive files found in old hard drives and SSDs must be deleted permanently. Otherwise, they may cause trouble to your business growth. Our hard drive shredding services ensure that all sensitive data found in those digital data portals will be deleted permanently. Contact us today if you want to inquire further about our Electronics Recycling Mariposa County Services.