Electronics Recycling Sierra County Services, CA
According to the statistical data published by The Balance, only 15-20% of electronic waste is recycled yearly. This figure must increase by way of proper electronics recycling in order to prevent further environmental damage caused by hazardous chemicals present in disposable IT equipment. All Green provides a responsive approach to help the residents here through Electronics Recycling Sierra County Services in California.
Sierra County is located in the Sierra Nevada region of California and is home to 3,240 residents. The only incorporated city in Sierra County is Loyalton. There is only one traffic light in the county, located at the intersections of Highways 49 and 89. Through our services, you can help keep this place clean and free from electronic waste.
If your city is far from Sierra County, or you're far from the nearest drop-off location, then you can request a pickup from your home or business by following the link below.
Recycle Electronics Today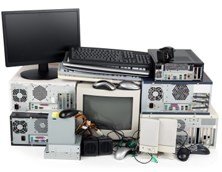 Electronic waste recycling
is a very simple and eco-friendly process. This is done by way of collecting those used, old, but still remarketable IT devices. The goal of All Green in this county is to turn everything into a reusable stream of components or commodities.
We're one of the trusted companies in the e-waste industry. We have certified services to any size organization. The focus of our IT asset disposition approaches in on security and convenience. We follow the principles behind "Reduce, Reuse, Recycle" Program of the government and other environmental advocates. We don't circumvent any EPA regulations and guidelines every time we handle e-waste and other environmentally dangerous materials.
Sierra County Electronics Recycling
If it is about time for you to replaced your old technology, All Green provides a wide array of e-waste services such as electronics recycling, disposal and remarketing of IT asset, equipment destruction, data destruction, and hard drive shredding. We want you to minimize the costs and to maximize your returns; that's why our IT asset remarketing is fit for you. We assess the value of each of your disposable equipment and we repair, refurbish them to hit a higher resale price on the market.
If you opt to donate your devices to any organizations, you can do that. But it is important that your sensitive data and information should permanently be deleted before giving away your old computer units and any other devices that are of no use for you. Our electronic disposal system has been tested through times and it already has provided many ways for our customers to achieve their business goals. 
Available Nationwide Processing Centers
We cater to all states in this country and even to other countries in North America. We have a number of recycling agents and partners. We have many pickup trucks that are able to collect and transport the obsolete IT equipment from your office or residence going to our world-class recycling facilities. Contact us today if you want to inquire further about our Electronics Recycling Sierra County Services.