Electronics Recycling Alpine County Services, CA
A tested e-waste recycling solution provider is now in Alpine County, California. This is All Green Electronics Recycling. We proudly serve now the people here through our Electronics Recycling Alpine County Services. Our goal is to provide hassle-free and convenient services that will generate many benefits to the customers. If you want to retire you office computers because you have to replace them, it's a perfect time for you to have us in this location.
Alpine County is a rural area located in the Sierra Nevada region of California, between Lake Tahoe and Yosemite National Park. Although there are no incorporated cities in this county, it is home to several census-designated places including Alpine Village, Bear Valley, Kirkwood, Markleeville, and Mesa Vista. Starting today, you can help keeping this county clean and free from all types of hazardous e-scraps. 
Recycle Electronics Today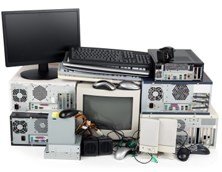 All retiring IT products are recyclable according to experts. Computers, mobile phones, telephones, stereos, TV sets, monitors and screens, and many more. These IT equipment when they reach the maximum span of their service should be recycled, instead of being thrown away in the landfills. This is where our Electronics Recycling come into play. This is a simple, hassle-free and eco-friendly process. We will make sure that a new stream of re-marketable and reusable items will be produced.
For many years of operating in the industry, we have reached the peak level of recognition from various environmental entities all throughout the country. It means one thing – we're a highly competitive e-waste recycling company.
Alpine County Hard Drive Shredding
You need a company that is expert in data security when you're about to dispose of your old computers and other office IT equipment. The destruction of sensitive data and information is a crucial task to do. But All Green knows how to process this thing correctly. We have an advanced data shredder that will see to it that no any information will be leaked, or will come out from the destroyed hard drives and other digital information channels. On-site, off-site, our hard drive shredding service is available for you.
If you want to know more information about our ITAD Solutions, Equipment Destruction, and IT Asset Remarketing Services, please feel free to contact us today.