Electronics Recycling Tulelake Services By All Green
This world is facing a great challenge presently. This challenge has something to do with the accumulated electronic devices like old computer units, cellular phones, telephones, fax machines, printers and other electronic-run equipment. If these stuff are continuously deposited in our landfill spaces then they will cause irreversible environmental issues. Our natural resources will badly be compromised. The extent of damage will be out of our control in the years to come. So we need to act now through adopting a reliable e-waste management solution like
Electronics Recycling Tulelake Services
by All Green.
Tulelake, California
A home to 1,010 residents, Tulelake is a city located in Siskiyou County. This is the location of two former World War II internment camps, a goose and duck processing facility, and a pillow-making factory.
Checklist of Items All Green Can Recycle
The items below can be recycled responsibly through our transparent and fully secure e-waste management system.
Recycle Electronics Today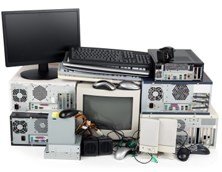 Once your unwanted electronic equipment are discarded and abandoned, you need the expertise of a company that will keep those products away from the landfills. This is our assurance. We will help you in terms of professionally recycling and profitably remarketing your refurbished tech products. This is our commitment as we deliver our excellent performance.
E-waste recycling means a process is done to get the valuable parts of particular tech stuff. After the recovery process the next phase is to determine a market wherein those repaired parts or whole products are going to be sold again.
Tulelake IT Asset Remarketing: Earn 70% from Your Recyclable Items
Our remarketing approach will allow you to earn 70% after your refurbished equipment is sold. The extra amount you will earn is helpful as you can reduce the cost of technology replacement by using your income. So before you're going to discard a computer unit, let us collect it for free and we will do our best for you to hit a higher price for reselling.
Contact us now for more details and information.