Electronics Recycling South L.A. County Area Drop-off Locations By All Green
The areas listed below are where All Green's Electronics Recycling South L.A. County Area is able to serve. 
If your location does not belong in the cited locations above, or the nearest drop-off location is too far from you, then request a pickup from your home or business by following the link below.
Recycle Electronics Today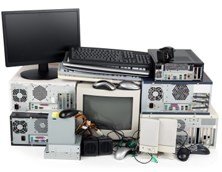 It is important that you have to practice a responsible e-waste recycling. This is a process wherein all disposable electronics are recycled, reused, remarketed, while others are even donated to some charitable organizations. It has a lot of benefits not only to you but also to other people and to the environment as well.
We always follow the principles behind this Campaign: "Reduce, Reuse, Recycle." We do our services in compliance with the existing EPA regulations and guidelines. Our solid waste management program will see to it that all hazardous materials are professionally handled.
List of Items You May Consider Recycling:
We're considered as the nationwide leader in responsible electronics recycling. This recognition is important for us. It means we're doing our best in the industry. There are a lot of e-waste recyclers these days, but our name is one of those few names on top. We even have more trucks and our network of agents and partners is even more extensive than the others. We serve not only in the United States but also in the entire North America. By starting to recycle today, you're doing your part in protecting Mother Earth.
Computer Disposal
If you have old computers in your office or at home, you have to rely upon our expertise in recycling them professionally. We will not let them to just be stocked or dumped in the landfills. This is an unacceptable practice if you're doing this one. What you need to do is to let All Green help you in their proper recycling and remarketing. You can still make use of them but only with our help. 
Data Security and Hard Drive Destruction
Do you want to protect your business from data breaches? If yes, then it's about time that you have try our Data Security and Hard Drive Shredding Service. This is for your business protection. The sensitive files of your customers as well as the other non-public digital documents about your operation will permanently be wiped from the hard drives when you're going to dispose of them. Our service is secure and certified. We can make you happy and fulfilled as it's our commitment and drive.
Nationwide Processing Centers
It is the right thing for us to do to help you recycle, reuse, and remarket your oudated and obsolete electronics. It can give you a lot of benefits. You can earn a maximum of 70% from the total net profit of your refurbished items through our IT Asset Remarketing Program.
We have conveniently distributed processing centers and partners all throughout North America. We're always happy to serve our customers with all our best. To start enjoy one of our Electronics Recycling South L.A. County Area Services, kindly contact us right now.