Electronics Recycling Palos Verdes Peninsula Services By All Green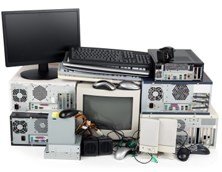 When a large amount of e-waste finds its way to a landfill, that's very harmful to the environment. Hence, there must be a strict observance of electronic waste management. One of the companies duly recognized as a leader in the industry that helps people and various business organizations recycle old electronics is All Green. We design a way known as Electronics Recycling Palos Verdes Peninsula Services. This will cater to the e-waste recycling needs of the people in this particular area of the country.
Electronics Recycling Drop-off Location in Palos Verdes Peninsula
If your city is not listed above or you're far away from the nearest drop-off location, then request a pickup from your home or business by following the link below.
Nationwide Processing Centers
Recycling EOL electronics is a smart, economical thing to do in order to resolve the issues associated to electronic waste accumulation. All Green has an extensive network not only in this country but also in the entire North America. Our processing centers are scattered all over from Southern California, to Northern California, to other designated centers and recognized partners' facilities all throughout the U.S.
Other Items You May Consider Recycling:
The importance of electronics recycling has been felt for many years now. The presence of metals like cadmium, lead, and mercury in IT equipment should be handled well. The time you're about to replace your business technology, that's also the time when you have to embrace and adopt our ITAD solutions.
Proper Computer Disposal
Old computer units, like desktops and laptops, should not be dumped in the landfills carelessly. A proper solid waste management approach should be incorporated in your business plan. This way, you can reap many benefits. Our IT Asset Remarketing Program can allow you to earn 70% from the total resale profit when your refurbished computers are redistributed on the market for resale.
Secure Data Security and Hard Drive Destruction
Every computer hard drive has sensitive files and information. If you think that by just deleting them in your system is enough, you're wrong. They're still there. And the moment you'll throw away your unit, other people might be able to access those files and will use them against you. Identity theft is a common problem today. To avoid this, you have to rely upon our secure and certified hard drive shredding that is done either on-site or off-site.
Contact us right now and experience the best Electronics Recycling Palos Verdes Peninsula Services by All Green.