Electronics Recycling Rolling Hills Services By All Green
Rolling Hills is a city on its own, even if it only has less than 2,000 in population. The city, despite having its own bustle, saw a decrease in population from 1,871 during the 2000 census to just 1,860 in the last census in 2010. This gated community is very exclusive. Each property is required to have a stable or at least a place to have a stable. This just goes to show how this city puts extreme care for horses and the environment as a whole. Today start recycling e-waste through our Electronics Recycling Rolling Hills Services.
Keep Rolling Hills' rural and equestrian characteristics through electronics recycling in Rolling Hills. A community as rich as Rolling Hills guarantees that every household is equipped with the latest gadgets and electronic equipment. And every few months, it is almost always guaranteed that some of these equipment will be disposed of to pave the way for an upgraded model. All Green Recycling will recycle all kinds of electronic items that you no longer wish to deal with. We will take care of it and in some cases, help you financially recover some of the investment.
Premium-Class E-Waste Management and Handling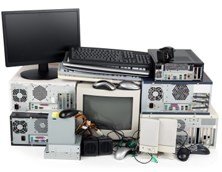 All Green Recycling helps a household or company accomplish efficient electronics recycling. We are a certified electronics recycling facility that will help in managing electronic wastes. We advocate for recycling old electronics. We know that unused electronics at home take up space and if you are aesthetically inclined, then such wastes are just eyesores. But then, you can't easily just throw them in the garbage bin because that would be illegal. So we help manage them by making sure functional parts of an electronic waste will reach organizations that could still use them.
We value the environment and so we make sure that no electronic waste will ever reach the landfill because such would endanger the environment and the health of the people.
Rolling Hills Electronics Recycling Location
Rolling Hills is a very exclusive community. It can only be accessed through the city's three main gates. But if you find yourself along these areas, call All Green Recycling to schedule to have your wastes picked up for electronics recycling in Rolling Hills. Either that or you may drop them off to the nearest recycling centers.
All Green Recycling service the following areas:
Palos Verdes Estates
Walteria
Rolling Hills Estates
Rancho Palos Verdes
Battleship USS Iowa Museum
Charles H. Wilson Park
Lomita
West Carson
Terminal Island
Contact us today for more details.