Electronics Recycling East L.A. County Drop-off Locations
Through All Green's  Electronics Recycling East L.A. County Services, it's now easy to recycle any electronic device in the following areas. 
Click on the link below for you to be able to schedule an e-waste pickup right now.
Recycle Electronics Today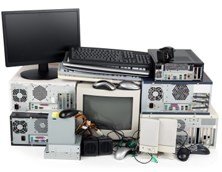 East L.A. County certified electronics recycling is the simplest and eco-friendliest e-waste solution available for you. We professionally treat or process all your used electronic gadgets to make sure that the materials will be available for reuse, donation, and reselling.
We have raised the bar in the recycling industry by employing our own "Reduce, Reuse, Recycle" practices and policies. We have been doing this to protect the environment. Further, we comply with and even exceed the existing EPA laws, guidelines, and regulations, in terms of properly handling e-waste and other hazardous components.
Other Items You May Consider Recycling Are:
East L.A. County Electronics Disposal
All Green's Electronics Recycling East L.A. County is the recognized leader in responsible e-waste recycling. Let us collect all your old and outdated electronics. By using our services, you will help keep a healthy environment. So start embracing a responsible e-waste recycling system today.
Computer Disposal
We focus on items that are ready for scrapping. We can shred down to pieces with a size of smaller than 2 inches in terms of diameter. This is a coarse material which can then be put in a process with an estimated output of 95% done automatically. The materials to be recovered and processed include aluminum, iron, copper, glass, plastic, precious metals, and other shredded circuit boards. These products are then processed by other responsible recyclers as our partner companies.
Electronics Recycling East L.A. County is a guaranteed service by All Green. Through this, we evaluate to determine the most valuable and most environmentally practical safeguards that always consider an aftermarket function. The electronic devices can be dismantled and the resulting components that are separated are subjected to proper refurbishment, salvaging, and/or scrapping.
Data Security and Hard Drive Destruction
We believe that the data of every hard drive should be removed digitally. We do the digital wiping twice to make sure that a secure data destruction is done fully. We not only wipe the outdated hard drives but we also physically subject them to a safe shredding process.
We have a 100% safe and certified data destruction. We provide you being our client with an assurance that data destruction is done perfectly.
Available Nationwide Processing Centers of Our Electronic Waste Disposal
We do the recycling process of your obsolete electronics in the right manner. We act smartly and economically.
Our network of processing centers together with our partners are widespread for your convenience all throughout the U.S. and North America. Protecting the landfills from electronic waste products is protecting the environment. We also protect the developing nations from the careless dumping of electronic junks.
To get the free quotes of our Electronics Recycling East L.A. County, contact us today.