Electronics Recycling Pismo Beach Services By All Green
According to ISRI – the Institute of Recycling Industries statistical data being published in an article by
The Balance
, in 2011, there were 4.4 million tons of electronic waste was processed, treated in the United States. In clear sense, year after year, the volume of e-waste accumulation continues to increase. This is very alarming as electronic junk can destroy natural resources and this planet in general. Thus, trying All Green's
Electronics Recycling Pismo Beach Services
is one good consideration if you want to recycle, recycle, and reuse your old electronics in this location.
Where is Pismo Beach?
Pismo Beach is a beach city located in San Luis Obispo County, California. This is also known as the "Clam Capital of the World" thus it hosts a Clam Festival that features clam-themed a parade, competitions, and clam chowder. 
Start scheduling an e-waste pickup today through following the link below.
Recycle Electronics Today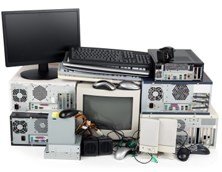 Our recycling system is good for enterprises and consumers. We've been in this industry for quite so long now. Thus, we can help you have great results. We guarantee that no single electronic device will be deposited in the landfills. We campaign for zero e-junk landfills on this planet.
With this campaign, we are hitting many benefits. Aside from protecting the environment, we also conserve natural resources and save money which you can use for buying new office supplies and equipment. Through our IT Asset Remarketing System, you will gain 70% as your profit share.
Pismo Beach Electronics Recycling
Finding a certified electronic waste recycler is one of the best things you can do at present. In the locations found in the map above, you can count on our proven e-waste management solutions. Thus, you can now start recycling the products listed as follows:
Contact us for more details and information about our services.