Electronics Recycling Ukiah Services By All Green
Problems on e-waste have become a global epidemic. It means when such problems are not addressed, they will trigger more environmental issues that are hard to reverse and remedy soon. But with modern know-how and technologies used by All Green Recycling, handling all kinds of electronic trash is so easy. Trying our
Electronics Recycling Ukiah Services
is therefore recommended. We know what to do with your e-waste products when they're surrendered to us for the necessary processing and treatment.
Ukiah, California
Ukiah is the county seat and largest city of Mendocino County with 16,075 residents. This city is home to prestigious wine labels including Fetzer, Fife, Parducci, Frey, and Bonterra, and its wine merchants are known for their organic and sustainable practices.
List of Tech Items We Can Recycle Responsibly
Recycling electronic devices is hassle-free with us. The list below contains the specific tech products we can process in our facilities.
Recycle Electronics Today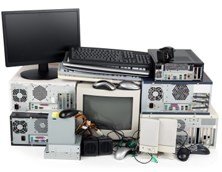 Protecting your business is the primary goal why you have to dispose of your EOL IT equipment. Old computers for example should not find their way back to the market unless they're refurbished, repaired. Or if they're no longer reparable then destroying them totally should be done. This is the expertise of our company while operating not only in the U.S. but also in the entire North America.
Scheduling an electronic waste pickup is free. You don't need to spend money for this. You can ask our team to collect your items right from your own facility or location. Or you can just look for a drop-off location where you can leave your recyclable items.
Ukiah IT Asset Remarketing
Do you want to reduce the cost of technology replacement? Our remarketing process will allow you to earn a maximum of 70% from the total net revenue when we resell your items successfully. Without any cost from your end, you will be earning an extra income by allowing us to recycle and remarket your unused and unwanted devices.
Contact us now for more details and information.