Electronics Recycling Sherrill Recycling Services By All Green
Millions of tonnes of electronic disposables are discarded yearly. The figures continue to rise year after year. The speedy production of tech gadgets and devices is the general reason why it happens. Recycling is encouraged because those EOL IT equipment being replaced by new models and versions can harm the environment and can compromise the remaining natural resources on this planet. To embrace a world-class e-waste management system by All Green Recycling is therefore important. In this location, you should try our
Electronics Recycling Sherrill Services
. These are safe, risk-free, convenient, and efficient. You can recycle, reuse, and remarket any electronic device with us.
Where is Sherrill?
Sherrill is a city located in Oneida County, New York. In the year 2000, it had a population of 3,147, making it the least populous city in New York.
Follow the link button given below for you to schedule an e-waste pickup.
Recycle Electronics Today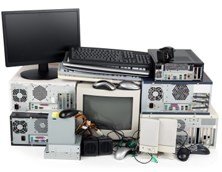 Everything run by computer system and electronics should be recycled, reused, and remarketed. Allowing them to accumulate in our basement or stockroom is not a good practice. Calling the attention of a reliable e-waste service provider is significant. So by letting All Green collect your items at home or office you're one step away from achieving your business goal of having a zero e-waste in your garbage bin.
This is not further good to let big industries and even our government send our own electronic trash in other countries. All of us will pay for the price and no one can escape from it. Schedule a pickup service that is free with All Green or find our nearest location for drop-off.
Sherrill Electronics Recycling Locations
If you're now ready to recycle responsibly, listed below are the materials that we can collect, treat and process.
Contact us now for more details and information about us.