Electronics Recycling Sandy Valley Services By All Green
Did you know the effects of e-waste products when dumped in the landfill spaces? They're deadly. That's why we need to practice a responsible electronic waste recycling system. Handling those old computers, printers, mobile devices, and other electronic products should be done properly. Don't throw them in garbage bins because doing so will end up in the landfills. The best thing to do when you are in this area is to try All Green's
Electronics Recycling Sandy Valley Services
.
Where is Sandy Valley?
Sandy Valley is a census-designated place in west-central Clark County, located 45 miles from Las Vegas, Nevada. It has approximately 1,804 residents. It is bordered by the California state line on the east and by the Spring Mountains on the west.
Hit on the link button below for you to be able to schedule an e-waste pickup today.
The Items You Can Recycle with All Green
Below is the list of items you can responsibly recycle with All Green Recycling's e-waste management system.
Recycle Electronics Today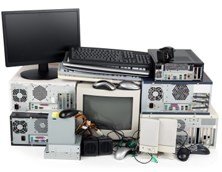 We have a complete set of services which can give you peace of mind, ease, and convenience. All you need to do right now is to schedule our free-of-charge electronic waste pickup, or to find the nearest drop-off point of All Green. We can work for you 7 days each and every week.
Our disposal process is trusted by many because of our commitment and passion. We're driven by the principles that observe "Recycle, Reuse, and Reduce" Policies and Guidelines.
If you want to reduce the cost you may shoulder when you buy new sets of computers and other office equipment, you need our IT Asset Remarketing Program. Through this, you can gain as big as 70% as your profit share when your refurbished items are sold again on the market.
For more details and information, please feel free to contact us anytime.