Electronics Recycling Gold Country Area Drop-off Locations
Listed below are the specific counties that All Green Electronics Recycling Gold Country Services are able to cater.
If your city does not belong in the counties above, or your location is so far from the nearest drop-off location, then it's the right time for you to request a pickup from your home or business by following the link below.
Start Recycling EOL Electronics Today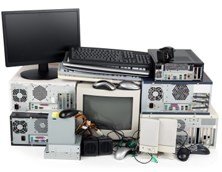 Recycling old and disposable electronics like dated computer products, stereos, TV sets, and cell phones is so important these days. The landfills must not be the far-end reaching point of those hazardous materials. Reusing through repair, and remarketing after refurbishment, or even donating to charitable organizations is in one way or another a good idea as far as the accumulated electronic waste is concerned. That's why All Green always aims to help you produce a bulk of reusable commodities from the stored or junked IT materials in your home or office.
List of Items You May Consider Recycling:
Wherever you are in Gold Country Area, All Green Electronics Recycling is always ready to serve, 7 days a week. We have an extensive network of responsible e-waste recycling partners and agents. We serve not only the people in the U.S. but also those living in the far-flung countries of North America. Because of this reality, we've been recognized as one of the top leaders in the industry.
Good Computer Disposal Practices
Stationary desktops and mobile laptops when unused or old already should not be dump in the landfills. They must be recycled and reused to avoid the detrimental impacts to the environment. We have eco-friendly ways on how to responsibly recycle those products. Our IT Asset Remarketing is the answer. It will help you reduce the costs of your business for technology replacement. All Green can pay you as much as 70% from the total net profit after a successful resale to external buyers.
Secure Data Security and Hard Drive Destruction
All disposable computers have hard drives that contain private files and information. Those data must be secured and protected. They must not be leaked to the public. Otherwise, your business brand or name will suffer the consequences. Our hard drive shredding will surely degauss and delete those sensitive information and data.
All you need to do to start enjoy our services is to contact us right now.