Electronics Recycling Needles Services By All Green
Are you looking for the best electronic waste recycling solution provider in town? Today, you will know that All Green Electronics Recycling is one of the top-notch companies in the industry. In this particular location, we offer
Electronics Recycling Needles Services
. This is to provide convenience and ease. If you have old computers, cellular phones, and other end-of-life IT equipment in your home or office, let our recycling team pick them up and bring them to our modern facilities located in Southern California. It's our drive to help you implement risk-free e-waste management and handling strategies.
Needles is located in the Mohave Valley in the Mojave Desert area of San Bernardino County. The creator of the Peanuts cartoons, Charles Schulz, grew up in Needles and some of his characters live near Needles. To help keep this city clean and e-waste free, you need to schedule an e-waste pickup service with All Green today through the link below.        
Recycle Electronics Today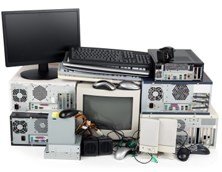 It is our expertise to recycle and process any electronic device. Electronic waste, most commonly known as e-waste, has an enormous category of disposable tech products, such as computers, mobile phones, telephones, fax machines, printers, stereos, TV sets and other items. They contain cadmium, mercury, lead, copper, among other hazardous metals. Dumping them in the landfills here or abroad should not be practiced. Otherwise, they can worsen the present environmental problems we're facing today. Our ITAD Solutions serve as the main approach on how you're going to handle, manage your e-junks.
Needles Electronics Recycling Location
Our Electronics Recycling System is ready wherever you are in the map shown above. We have the best people to work for you. Our network of recyclers is so extensive than others. We even have more pickup trucks than the other e-waste recycling solution providers in town. Below are our specific services which you can try today.
For more information about our services, please feel free to contact us today.