Electronics Recycling Yuba County Services By All Green
The locations below are the nearest cities where All Green can serve businesses through its Electronics Recycling Yuba County Services. 
If your city is not listed or the nearest drop-off location is too far, then request a pickup from your home or business by following the link below.
In 2014 according to The Balance, United States had 11.7 million tons of e-waste all over the country. This is an alarming figure as the disposable electronics can cause risks to the environment. This is the main reason why the government is pushing for a responsible electronics recycling. In Yuba County, All Green Recycling is proud to help the residents and business owners recycle and reuse disposable IT equipment.
Yuba County is located in the Sacramento Valley region of California and is home to 72,155 residents. It is home to the Plumas National Forest and the Tahoe National Forest and has two incorporated cities, Marysville and Wheatland.
You can help keep Yuba County become clean and e-waste free. We have the solution for you. 
Recycle Electronics Today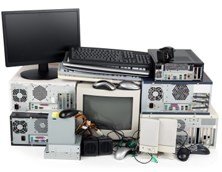 Recycling electronics is a must these days. The impacts of disposable computers, mobile phones, telephones, fax machines, television sets, and many other IT equipment can endanger the environment. All Green offers a simple and eco-friendly process, known as responsible
electronics recycling
system. Through it, we treat or process used and old electronics in order to make the materials reusable and remarketable. 
We have been in the recycling industry for several years and decades already. We employ our own "Reduce, Reuse, Recycle" Practices. This is to serve the environment's needs. Our services are compliant with the existing EPA regulations and guidelines when it comes to proper handling of all types of e-waste and to prevent lead, mercury, and cadmium from being dumped in the landfills.
Yuba County Electronics Recycling
We have a tested solution to help you recycle, reuse, and remarket your disposable electronics. Our IT asset remarketing program is the answer. We will evaluate your needs after you schedule an e-waste pickup. We will then collect your e-waste disposables and will refurbish and repair them. We will assist you in reselling them at a higher price from which you can gain up to 70% out of the total revenues. This is to reduce and minimize your investment in replacing your technology. Instead of throwing out your old electronics in garbage bins, trust All Green Recycling as we know what do to with them. This way, we work together to help the environment and at the same you save some cost for your business. 
To address your e-waste problems, All Green can help you. Contact us today to get free quotes about our Electronics Recycling Yuba County Services in California.