Woodland Electronics Recycling Services By All Green
EOL IT products are toxic and therefore hazardous to the environment. Hence, there's a need to understand the idea that practicing a proper management of e-waste is important. In this area, All Green has designed a solution known as
Woodland 
Electronics Recycling Services
. We design this for the residents and business people in this location to easily and conveniently recycle, remarket their disposable computer units, mobile phones, telephones, among others. If you're living in this city, be aware that our services are now ready for you to grab.
Woodland is the county seat of Yolo County with 55,468 residents. It is home to the Yolo County Historical Museum and the Heidrick Ag History Center. Do you want now to help in keeping Woodland clean and e-waste free? Our ITAD Solution is the answer.
Why Recycle Electronics Today?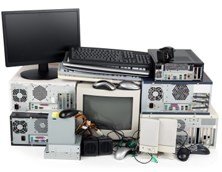 Electronics Recycling is a present trend not only in the U.S. but also in the whole wide world. Why is this so? The continuous dumping of electronic waste in the landfills can cause problems to the environment. Diseases and other problems will tend to arise if this particular issue is not addressed. The uncontrolled unearthing of those metals used in the technological products is truly damaging. Now, it's our turn to do our part of the pie, of taking good care of Mother Earth. That's why we need to recycle any electronic device.
What to Do Now?
Today, you must schedule an e-waste pickup. Or, you have to find a near All Green drop-off location. By doing so, you're taking the first leap towards success. Recycling those electronic disposables is our way to sustainability. Don't throw your e-trash in the garbage can or don't just store it in the storage room. Recycling, reusing is needed.
Do you worry about the sensitive files and information stored in old hard drives? Worry no more because our Data Destruction and Hard Drive Shredding is certified and secure. We can help you avoid the possible problems to be cause by personal data hacking and identity theft.
Contact us today and let All Green serve you with all our best and expertise.