Electronics Recycling Woodlake Services By All Green
Looking for the best and most trusted e-waste recycling solution provider in this city? All Green Recycling is an option which you can try. We have premium solutions that are crafted and designed to make you happy and satisfied. Trying our
Electronics Recycling Woodlake Services
when responsibly recycling electronics is a sound decision you can take today. Don't settle with an inferior service provider. Trust only the one with tested performance and proven track records.
Woodlake, California
Woodlake is a small city in Tulare County with 7,279 residents. The city hosts a Lions Rodeo each year to let modern-day cowboys show off their skills.
Recycle Electronics Today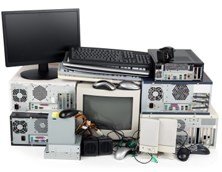 All disposable electronic products have toxic materials in them. They contain the hazardous metals like mercury, lead, zinc, iron, nickel, cadmium, barium and many more. They should therefore be disposed of properly because if they're thrown out in the garbage bins, they will end up being landfilled. Landfilling old computers, mobile phones, TV sets, stereos, and other devices is not allowed by laws. Adopting our E-Waste Management Solution is the best way to do.
Schedule our pickup service today is the first step you need to do. This is free of any charge. You don't need to pay for our pickup team to collect your items. Now if you can't schedule a pickup then locating our nearest drop-off location is another good option. You can drop there your recyclable and disposable electronic product/s which we'll be picking up later.
Premium Woodlake Electronics Recycling
Recycling disposable electronic items is our expertise. If you're searching for a service provider that can protect your brand we can be the one you need to try. Our Equipment Destruction is certified and we will make sure that all old, recalled and defective items will not find their way back to the market. Aside from it, we also have a secure Hard Drive Shredding process that can delete all sensitive data and information from any data portals.
Contact us now for more details.