Electronics Recycling Winters Services By All Green
Stocking old computers, mobile gadgets, telefax machines, and telephones in the stock room of your office can cause you trouble and can trigger your business to suffer from certain consequences that might lead to losses. To prevent this from happening, you need the support of All Green Electronics Recycling, a certified e-waste disposal service provider. We're in this field for many years now. We know what to do with e-scraps you're accumulating and piling up. In this place, our
Electronics Recycling Winters Services
serve as your ultimate helping hand.
Winters is a small city in Yolo County with 6,624 residents. It is located near Lake Berryessa and is the one-time home of cartoonist R. Crumb. With our services, you can help without any hassle in keeping Winters clean and e-waste free.
Recycle Electronics Today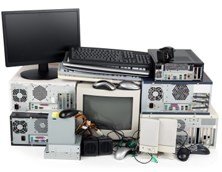 Upgrading the capacity of your computers that help run your business more profitably can lead to the accumulation of end-of-life desktops and laptops. As this happens, let All Green Electronics Recycling manage the recycling aspect of those devices. We're in this field for several years now. Our professionalism is unmatched. Our experience is deep enough for you to trust us. Today, you have to schedule an electronic trash pickup, or you have to find a near drop-off location in your area. Our guarantee is that no hazardous metals and other materials present in various gadgets will reach any landfill, including those dumping sites located abroad.
Our electronics recycling is fit for any size organization. Convenience and benefits are two main factors why you need to trust our services when it comes to recycling electronic wastes. We provide free pickup wherever you are in this location. We have more trucks compared to other e-waste recyclers in the country. We also have a wide network of recycling agents and partners.
Contact us today and get more details about our certified Data Destruction and Hard Drive Shredding, as well as our beneficial IT Asset Remarketing.