Electronics Recycling Winchester Services By All Green
One of the effective ways to protect Mother Earth is to recycle, reuse, and remarket old electronic products. Instead of just storing them in your basement or stockroom you can let us collect them for the necessary processing and treatment in our world-class facilities. We will be making sure that a new stream of IT commodities will be produced out of the old ones. We're a leading e-waste recycling solution provider in town. So choose our
Electronics Recycling Winchester Services
today to help you recycle all disposable electronics.
Winchester, Nevada
Winchester is a census-designated place in Clark County that borders Las Vegas, Sunrise Manor, and Paradise. Winchester is home to approximately 26,958 people and contains part of the Las Vegas Strip. Because of this, the US Postal Service has assigned "Las Vegas, NV" as the place name for Winchester zip codes.
Recycle Electronics Today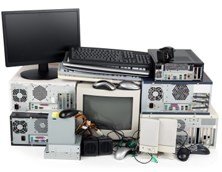 All you have to do now is to schedule our e-waste pickup service that is free of any fee. You don't have to pay for us if you want us to collect your items right from your own location or facility. We'll be there to help you break down your items, dismantle and bring them to our own facilities for processing.
We have hundreds of happy clients already. They can vouch and testify for our excellent performance. There's no need for you to worry about where to place your e-waste products. We will do it for you.
Our electronic waste recycling offers include a brand protection program. We can help you avoid the risks due to data breaches as we have Equipment Destruction and Hard Drive Shredding Services. On-site or off-site we will destroy the hard drives, SSDs, servers and other digital data channels so that your business brand will be protected.
If you're ready now to recycle responsibly the disposable tech products, please feel free to contact us.