Electronics Recycling Westmorland Services By All Green
Mass production of cheap mobile gadgets and computers has caused the increase in the accumulation of disposable IT equipment in various business and residential locations. If those EOL products will not be handled well in terms of proper recycling, they can cause trouble not only to the environment but also to human lives. Hence, e-waste recyclers like, All Green, are significant in the society these days. Our
Electronics Recycling Westmorland Services
is designed to make the people here satisfied the moment they will ask us to recycle, treat and process their electronics disposables.
Recycle Electronics Today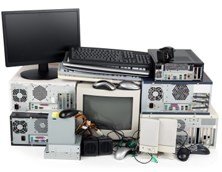 All electronic recyclable materials should undergo the recycling treatment processes. They should not be dumped in the landfills anywhere in the country, even in the landfill sites overseas, because they can cause further environmental chaos in the whole wide world. What must be done is to secure a certified electronics recycling system. This can easily be attained through the help of All Green. We will recycle all end-of-life electronic devices.
Today, you have to find a near drop-off location or you can schedule an e-waste pickup via email or over the phone. It's important not to throw your electronics in the trash bin. All IT equipment disposables are hazardous. Adopting our programs and services are what you really need for to address gadget cluttering in your home or office.
Westmorland Electronics Recycling Locations
Westmorland is a city located in Imperial County, Southern California that is home to 2,225 residents. You can now help keep Westmorland clean and e-waste free. The only way to achieve this purpose is through All Green's ITAD Solutions.
Your sensitive files and information should permanently be deleted from the hard drives and other digital data portals. To perfectly achieve this objective, you need our expertise. Aside from the know-how of our workers, we also use modern-day shredding equipment to ensure that the results are 100% excellent. After the shredding process, your IT equipment will be redistributed on the market for reselling, whereby you will earn 70% from the total revenue.
Contact us today to learn more details about our services.