Electronics Recycling Wasco Services By All Green
Nobody knows exactly where Wasco got it name. Residents share two theories which they also learned from early settlers. One is that the city's name was coined from a Western American Sugar Company. A second theory says that the city was named after one of its residents. Founded in 1907, Wasco is the site of the Fourth Home Extension Colony. Wherever the city got its name, residents certainly need the help of a reliable e-waste recycler like All Green's
Electronics Recycling Wasco Service
s.
Recycle Electronics Today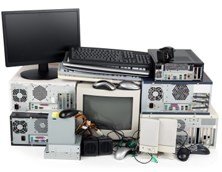 Outdated laptops remain valuable if given to the right people. We know how to extract the still useful components from your old IT asset for reuse. We do not rush the process. We want everything to be perfect. We asses your equipment's condition by looking at its age and functionality. Components that can still be used are sold through our online resale platform. Do not worry. We share a portion of the proceeds with the equipment owner.
Wasco Electronics Recycling
Having a reliable e-waste recycler nearby is a source of relief. Do not waste your time. See us now for a quote.
Competitive E-Waste Recycling with the Industry's best
Wasco's 25, 545 residents need a reliable partner in e-waste recycling. Tapping the services of an industry leader like All Green do not have to be costly. Part of the cost may even be subsidized by the proceeds that you will earn from the resale of the still useful components of your old electronic equipment. Talk to us. We will offer you free-expert advise on your e-waste disposal plans. 
Time is of the essence in ensuring complete data protection. Sometimes, businesses get too preoccupied in ensuring the success of their operation and become unmindful of the need to protect their vulnerabilities. We offer our hard drive shredding services as a solution to your worries. We shred your data storage devices in a safe and secure manner.
Contact us today to learn more details and information about our offered services.