Electronics Recycling Union City Services By All Green
Do you see unused cellular phones or laptops in your drawers or stockroom? They are e-waste products which should not be dumped irresponsibly. They should however be recycled, reused and remarketed to avoid problems. Even donating them to charitable organizations after refurbishment is advised. This is important as far as keeping environmental sustainability is concerned. So in this location you need to try the
Electronics Recycling Union City Services
by All Green Recycling. We're in this business for many years thus we know exactly what to do with your disposable electronics.
Union City, California
Union City is located in the East Bay region of Alameda County. It is home to the San Francisco Bay Area Flight 93 Memorial in Sugar Mill Landing Park, which was the first memorial in the United States designed specifically to honor the crew and passengers of United Airlines Flight 93, a flight that was bound for San Francisco but crashed in rural Pennsylvania on September 11, 2001.
Recycle Electronics Today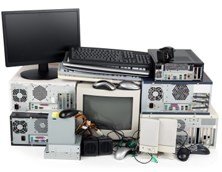 All landfill spaces should be free from the harmful e-waste materials. There are hazardous chemicals like cadmium, barium, mercury, copper, lead, zinc, nickel and more. Disposing of unused and unwanted metallic products should therefore be done in a proper, professional way. One company is behind the most reliable E-Waste Management Solutions in the U.S. – this is All Green.
When you schedule our free-of-charge pickup schedule today you're taking the first step towards success. You don't need to pay for our pickup. Or another option is to location our nearest drop location. For sure your issues will be addressed either way.
Union City IT Asset Remarketing: The Best Approach for E-Waste Products
Instead of just throwing away your unwanted tech products, why not earn from them? Our remarketing approach is best to help you earn a maximum of 70%. This can be taken from the reselling profit accumulated. Your recyclable items will be processed, treated, and repaired. After which they will be subjected for reselling. Once done you'll hit the said percentage sharing.
Contact us now for more details about our company and services.