Electronics Recycling Tehama Services By All Green
Tehama is such a small city in Tehama County, California. It's so small that the last census in 2010 reported that there were only 418 residents in the area. Worse, the population went down since the 2000 census recorded 432 people living in the city. The city is actually among the earliest California settlements north of Sacramento. But it seems like based on the census, the settlement is only for a short period of time, living the city with a 4.8% homeowner vacancy rate and 11.3% rental vacancy rate. Try our Electronics Recycling Tehama Services today to recycle and remarket end-of-life IT products.
In terms of practicing green living, Tehama is the perfect place to be. With a population of less than 500, it would be easy to monitor who among the residents actually practice electronics recycling in Tehama. With a population this small, sometimes a penalty for an infraction is no longer needed because the embarrassment could be enough. So preserve environmental propriety of this quaint city with All Green Recycling.
Tehama used to be a bustling community especially in the 1890s and was noted as the last town to go "dry" during the Prohibition. But the city should be known for more than just being a center for bootleggers and gamblers. So let's work on making Tehama a model for proper disposal and recycling of electronic wastes.
Recycle Electronics Today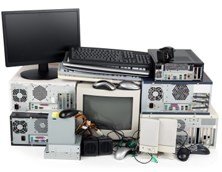 All Green Recycling is more than just a recycling facility though. We put premium in giving back to the community. We donate over $100,000 annually to non-profit organizations, which do charitable work. We choose local and regional organizations that we know will help a large part of the population. We also like mentoring individuals or organizations that are into recycling electronics. We teach them how to take apart electronics to separate the useful parts to those that could be thrown away. But you have to remember that it is illegal to throw away electronics in the landfill, hence, it is the goal of All Green Recycling to keep trash at a minimum.
We handle free e-waste recycling events every week. We tap schools, Churches, private and public organizations to aid them in properly recycling wastes especially electronic ones that contain toxic chemicals. Doing this on a weekly basis solidifies our commitment to the community to make the world a better place.
Trusted Tehama Electronics Recycling
If you are in these parts of California then you can easily access All Green Recycling's electronics recycling services in Tehama:
Contact us today for more information about our services.