Electronics Recycling Sutter Creek Services By All Green
Electronics do us a favor in making everything we want possible. We always wait for something new to come out from the market. Then, when another new one comes out, we forget about the other one that we used to have. But on the flipside, wrong acquisition, and disposal of these IT items may cause detrimental outcomes to you and to the environment. That's why you need All Green's Electronics Recycling Sutter Creek Services.
Instead of just throwing these items out and adding up to the mountains of landfills, try out the e-junk management program and electronic waste recycling solutions that we have. Be part of the growing family that are continuously helping in the salvation of the environment.
Where is Sutter Creek?
Sutter Creek is one of the electronics recycling centers in the country. It is located in Amador County which is populated with 2,051 habitants. One of the greatest pride of the places, aside from being the gold rush town, is being registered as "California Historical Location #322."
Recycle Electronics Today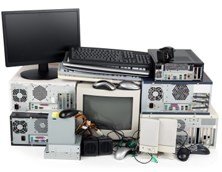 When everything you need is conveniently handed down to you to help our mother nature, you grab it. Are we waiting for the moment when the Earth is depleted and there is nothing much that we can do anymore but to look at it die? We only have this one version of the Earth, let us stop creating more damages to this home because this is, after all, our only home.
Instead of throwing the items down directly to the bin, adapt e-recycling management with All Green, and never look back to your old ways.
Reliable Sutter Creek Electronics Recycling
One of the greatest reasons to avail All Green's services is the nationwide network of e-waste recycling centers which assures that you can immediately help the environment within your vicinity.
To navigate the nearest drop-off location to you, or to request an e-waste recycling pick-up, do not hesitate to contact us today.