Electronics Recycling Sutter County Services, CA
If your city is not listed below or you're far away from the nearest Electronics Recycling Sutter County Drop-Off Location, then request a pickup from your home or business by following the link below.
All Green Recycling is a world-class electronics recycling company that is proud to help residents of Sutter County recycle old and unused electronic  devices. Sutter County is located in the Central Valley region of California and is home to 94,737 residents. It was one of the original counties in California and has two incorporated cities, Live Oak and Yuba City.
To help keep this Sutter County clean and e-waste free, All Green has a proven solution. We're in this industry for many years now. Our expertise and professionalism has already been tested. For your all your e-waste recycling needs, we can help you address them.
Recycle Electronics Today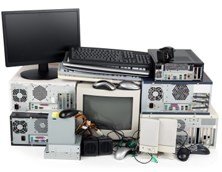 With our global IT asset disposition, recycling old electronics is plainly simple and eco-friendly. What we usually do is we collect, treat, and process your old computer units, monitors, mobile phones, telephones, and other IT equipment that can still be remarketed. For products with defects, we also have a complete equipment destruction. Our main goal is to help keep the environment safe through proper electronic waste disposal.
All Green is one of the highly recognized leaders in the e-waste recycling industry. We always base our action on the"Reduce, Reuse, Recycle" Principles, Policies and Practices. Our execution is always compliant with the existing EPA regulations and guidelines. We handle all types of electronic trash and other hazardous materials with proper care.
Sutter County Electronics Recycling
Sutter County Hard Drive Shredding, IT Asset Remarketing
When your computer units or any other IT equipment is about to end its service, you need to secure that the hard drives and SSDs are cleaned. There are sensitive files there that must not be shown to the public. Data hacking is a common phenomenon these days. To avoid this from happening, you need the proven and tested solution by All Green – the secure data destruction and certified hard drive shredding process. 
After deleting all the files, it's time that your IT equipment will be remarketed. Hence, we offer our IT asset remarketing program, from which you can earn as much as 70% from the total revenues of your gadgets being disposed. 
For more details and information about our Electronics Recycling Sutter County Services, you can contact us today.