Electronics Recycling Strivers' Row Services By All Green
Wherever you are in Strivers' Row, All Green Electronics Recycling Strivers' Row Services are available for you to grab. We have the best e-waste solution you can enjoy in town starting today. We can serve business people and all the residents in this area. We focus on security and convenience as we execute the ways with regards to providing satisfaction to all our valued customers.
Strivers' Row is located in Western Harlem, Manhattan. To help keep Strivers' Row clean and e-waste free and to support the environmental cleaning drive all over the world, All Green is the ultimate partner. We are serving in this industry for many years now. This indicates one thing – our performance is truly tested. 
Recycle Electronics Today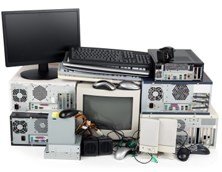 Our IT asset disposition system is recognized globally. We can simply protect your business brand and help you maximize revenues through world-class ITAD services. Our e-waste recycling program has the ways for you to responsibly recycle any electronic devices in your home or office. All you need to do now is to schedule a pickup date, or you can find the nearest drop-off location.
With our fully secure electronics recycling, you don't have to throw your electronics in the trash bin. For us, the best way is to make use of your disposable electronic equipment that is highly toxic to the environment. All Green's proven solution guarantees that your electronic waste will not reach any landfills in the country, and will never be transported abroad for irresponsible dumping.
Strivers' Row Locations
If you're doing your business or living within Strivers' Row, today is a wonderful opportunity for you. We have the convenient e-waste recycling and IT asset disposition services. For any size organization, we serve with all our best. We are always eager to provide excellent results in terms of helping the environment to have proper protection. We're constantly driven by our passion to help you achieve your business goals. 
World-Class IT Asset Remarketing
Do you believe that your end-of-life IT equipment still has a value? If so, then All Green can help you maximize your returns from the old computers, mobile devices, and telephones that are dumped in the storage area of your office. Our IT asset remarketing is an approach to cater to your needs of lowering the cost of technology replacement. Almost 100% of disposable IT devices can be recycled, reused, or remarketed. All you have to do is to understand the importance of a certified e-waste solution provider like us. 
What to Do Now?
If you want to know further about our Electronics Recycling Strivers' Row Services, contact us right now. We have pickup trucks that are always ready to pick your electronic trash. We also have a number of professional recycling partners and agents all over the country and even in the entire North America.