Electronics Recycling South El Monte Services By All Green
These days, it's very important to recycle old electronics wherever you are. This is to protect Mother Earth from further damage due to the harmful materials the old computers, mobile phones, and other electronic products contain. In this area, it's good news that All Green now offers
Electronics Recycling South El Monte Services
. This is a hassle-free, easy, and efficient way to recycle, reuse, and even remarket disposable IT equipment.
South El Monte is a city located in the San Gabriel Valley region of Los Angeles County, California. This is home to over 21,000 residents. Starting today, you can help keep this city clean and e-waste free. How? Use our electronic waste recycling system.
Recycle Electronics Today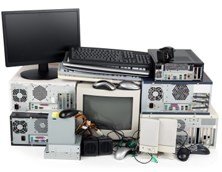 Recycling old IT products is easy with our services. We've been in industry for many years now. It means we've been tested already and our capacity is proven. We accept, collect, treat, and process all kinds of electronic devices. What you need to do starting today is to schedule an e-waste pickup. Another option is you have to find a near drop-off location.
Throw your old electronic trash in the trash bin is strictly prohibited. This should be practiced. Otherwise, you can contribute to the environmental destruction that has been happening for years now due to irresponsible dumping of e-waste. Our guarantee is simple – we will always make sure that no harmful materials will be dumped in the landfills here and abroad.
When recycling, reusing, and remarketing old IT products, it's important to choose the best ITAD solution provider in the country. There are many e-waste recyclers these days but All Green is more competitive than them. We have more pickup trucks and more agents/partners with cutting-edge facilities.
To reduce your technology replacement cost, our IT Asset Remarketing Program is suitable. It can help you gain a maximum of 70% through reselling the items you want us to recycle and remarket. Contact us right now for details and information.