Electronics Recycling Soledad Services By All Green
Soledad is a city in California. It is part of Monterey County and has a population of over 25,000 people as of the last census. It is an agricultural area, which is why it is all the more important that people do electronics recycling in Soledad. It is located at the heart of Salinas Valley, known as an economically productive and technologically advanced area—one of the best in the world, actually. It is home to fields of lettuce, broccoli, asparagus and grapes. Try now our Electronics Recycling Soledad Services to help you recycle old electronics here.
Soledad, California
Soledad does not just grow vegetables and grapes for its own consumption. It also supplies these produce to the rest of the country with some even exported in other parts of the world. So imagine the impact if people do not recycle electronics in Soledad, California.
All Americans are encouraged to recycle their old and obsolete electronic devices because of the goal that no electronic part should ever reach the landfill. Old electronics can be refurbished, which is one of the services offer by All Green Recycling through its IT asset disposition. As for obsolete devices, these can be taken apart so that individual parts can be reused for other purposes.
Recycle Electronics Today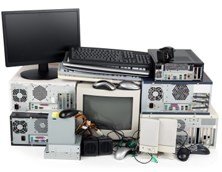 If electronics ever reach the landfill, know that these are made out of lead, mercury and cadmium, among others, which are substances that could cause a problem for the environment and for the health. These substances could potentially contaminate our groundwater—parts of these substances will seep into the landfill reaching the part where water is stored. And water nourishes the plants that we propagate. So imagine contaminated water nourishing the lettuce, broccoli, asparagus and grapes growing in Soledad. There are two scenarios here—either the plants will die because of the tainted water or they will grow and be contaminated themselves. And then these produce are sold all over the country and eaten by thousands of individuals. Some are also eaten by animals, which are another source of food.
World-Class Soledad Electronics Recycling
A lot of people or companies forgo electronics recycling because of the hassle. But knowing what you know now about the health risks, the hassle seems to be worth it. However, we serve a notch higher by offering an electronic waste pickup for the clients' convenience.
Contact us today to know more details about our electronics recycling services in this location.