Electronics Recycling Santa Clara Services By All Green
Did you know that one aspect of electronic waste recycling is to donate your tech products to some charitable organizations? By this way, you help many people who are in dire need of those items. This is one of the major factors why All Green Recycling, a certified company in the e-waste industry, is promoting an environment-friendly electronic waste management plans and programs. In this location, you can try our
Electronics Recycling Santa Clara Services
.
Where is Santa Clara?
Santa Clara is a city in the heart of the Silicon Valley in Santa Clara County. There are several major companies here including Intel, Sun Microsystems, McAfee, and others.
You can schedule an e-waste pickup through clicking on the link button below.
Recycle Electronics Today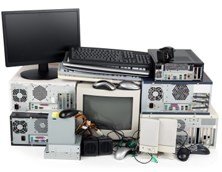 No e-waste products in the landfills here and abroad. This has been our drive over the years. Our commitment and passion is focused on helping those people who want to recycle, reuse, remarket and even donate their EOL tech products that are stored either in their home basement or office stockroom. For several years of excellent service, we're able to help hundreds of satisfied clients.
Our ITAD solutions are centrally managed. They're designed to provide ease and convenience; hence, we offer a client portal which you can use to track down the recycling activities we're conducting every now and then.
Santa Clara Electronics Recycling Locations
Do you want to protect your brand? We have two popular services which are fit for this need. First, we have data security through hard drive shredding which ensures the digital deletion of all sensitive data and information. Second, we have a certified equipment destruction service that is designed to totally destroy all recalled, defective, and EOL IT equipment. By protecting your business brand, your earnings are boosted and maximized.
Contact us today for more details and information.