Electronics Recycling San Joaquin Services By All Green
Recycling electronics is now made simple and easy by All Green for the people and businesses in San Joaquin. Our
Electronics Recycling San Joaquin Services
can give you peace of mind. We tailor this program to see to it that all electronic disposables will be managed, handled well. The proper management of solid waste is important these days. Hence, you have to embrace our system for you to help protect the environment.
San Joaquin is located in Fresno County in the San Joaquin Valley. It is a small city that is home to 4,001 residents. You can help this place become clean and e-waste free with our tested IT Asset Disposition Solutions.
To schedule an e-waste pickup today, click on the link given below.
Recycle Electronics Today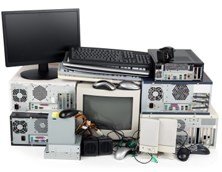 We have world-class facilities located in Southern California. We also have more pickup trucks and more e-waste recycling partners and agents. Hence, we're more competitive than the other recyclers in the country. We are equipped with knowledge on how to properly recycle any electronic device. The first thing you can do right now is to schedule an e-waste pickup, or to find a near drop-off location. You don't need to throw your old and disposable electronics in the trash bin. No any single EOL IT product will be dumped in the landfills here or overseas. So start to practice or embrace the so-called responsible recycling.
San Joaquin Electronics Recycling Locations
Wherever you are in the locations found in the map, our Electronics Recycling Services are always ready to cater to your needs. We guarantee that you can enjoy satisfactory and even excellent results. If you need your sensitive data to be deleted, then our Data Security and Hard Drive Shredding is the key. You can count on us to deliver our best performance every time you need our e-waste recycling team.
Contact us today to learn more details about our services.