Electronics Recycling San Anselmo Services By All Green
Keeping every location on this planet free from electronic waste is important. This is to provide human safety and environmental sustainability. Why is this so? The presence of electronic junks in the landfills is dangerous. All e-waste products have materials like copper, mercury, zinc, nickel, and other harmful chemicals. There's therefore a need to dispose of the EOL IT equipment properly through All Green Recycling's tested e-waste management and handling system. Try our
Electronics Recycling San Anselmo Services
today.
Where is San Anselmo?
San Anselmo is an incorporated town in Marin County, California. This is part of the San Francisco Bay area. Located 20 miles north of San Francisco, the downtown area of this place is known for its antique stores, boutiques, and restaurants.
Follow the link button below for you to schedule an e-waste pickup right now.
Recycle Electronics Today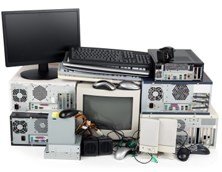 A certified electronic recycling system is needed. As we have centrally managed ITAD Solutions, all you need to do is to trust us. We can help you dispose of your electronic waste materials properly, professionally. That's why if you're going to transact a business with us, all you can have is 100% satisfaction and happiness. You will be fulfilled as our system can work easily, efficiently for you.
Don't think twice to try our e-waste services. We have the best workers and the right knowledge on how we'll collect, treat, and process all your disposable tech products. Looking for our drop-off location is another option for you to be able to reach us out. Wherever you are in San Anselmo, we will be there to serve you.
San Anselmo Electronics Recycling
The dumping of disposable electronics in the landfills should be stopped. Otherwise, we will all pay its price. One way to effectively address this issue is to embrace our IT Asset Remarketing and Equipment Destruction Services. You can contact us now for more details and information.