Electronics Recycling Rockefeller Center Services By All Green
Rockefeller Center is home to 19 commercial buildings in over 22 acres of land between New York City's 48th and 51st streets. It might as well be its own city because it has everything a city usually contains—residential areas, commercial, offices, among others. It even has a rooftop garden and its famous skating rink. Today, you can start recycling e-waste through our Electronics Recycling Rockefeller Center Services.
Tens of thousands of people are in Rockefeller Center at any given time. It's a fast-paced area with a lot of people always on their mobile phones because of their busy lives. And busy lives mean that people may not always have the time for electronics recycling in Rockefeller Center. But All Green Recycling makes everything convenient for its clients. Recycling is as easy as 1-2-3. You just need to call our office so that we can schedule a time and date and a place where we can pick up your electronic wastes.
Recycle Electronics Today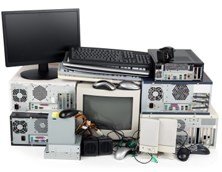 All Green Recycling will recycle any kind of electronic device: computers, laptops, cellphones and servers, among others. Recycling is very important in Rockefeller Center, which is known for its enormous Christmas tree every December. Lighting of the Christmas tree is an annual spectacle that millions of people witness annually. Going by this, it is not a surprise that Rockefeller Center inhabitants are also into electronic waste recycling.
All Green Recycling employs sustainable electronics recycling procedures that will properly dispose of toxic materials. If you or your organization fails to properly dispose of toxic materials, it will be a negative point for you. And we all know that credibility is sometimes more important when it comes to business. Credibility will strengthen brand name and it will bring in more customers. Allow All Green Recycling to protect your credibility by doing things properly.
We have a zero-landfill policy, which means that we make sure that no electronics will ever reach the landfill. By doing so, we are not only protecting the environment, we are also protecting the health of the people. First, these toxic materials usually found in electronics, could harm nature if e-wastes ever reach the landfill. These wastes could potentially pollute the soil and seep into our groundwater. As a result, our plants may be infected with these toxins. Remember that plants are fed to the animals and are also the source of human food.
Rockefeller Center Locations
Check out the nearest drop-off centers for your electronic wastes when you are in the Rockfeller Center area. Contact us today for more details.