Electronics Recycling Rio Dell Services By All Green
Rio Dell is a small city in the Humboldt County, California. With approximately 3,363 residents, it's important to keep this city clean — with little amount of e-waste. 
Electronics Recycling Rio Dell
is a continuous effort of All Green Electronics Recycling to preserve the beauty of this place. 
Recycling electronic waste products ensures reduction in pollution and conserving the raw or virgin materials from being mined. Technology is constantly evolving, but the supply of raw materials is limited. This is why the wisest choice is to recycle the materials and turn them into new products to meet the increasing demand for latest gadgets.
Reusing old materials to manufacture new high-tech consumer products is significant to helping the economy, too. Recycling centers will require laborers and this means a job opportunity for more people. 
Refurbishing electronics has a lot of value in reducing pollution in local flora and fauna. In fact, high levels of toxic chemicals can kill or prevent the growth of plants. Animals will also struggle from the harmful elements found in electronic products. Humans are at greater risk of cancer. Cadmium found in computer chips and beryllium found on motherboards are harmful to people's health. Garbage sorters or collectors run the risk of getting cancer since they are more exposed to carcinogenic materials. 
E-waste problem must be taken seriously and must be addressed as early a possible. This is the reason why All Green Electronics Recycling has implemented a recycling program that aims to reduce e-waste in the United States.
Recycle Electronics Today
All Green IT Asset Disposition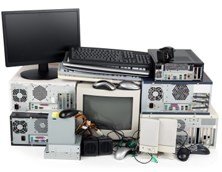 Electronics Recycling Rio Dell is an effective way to ensure that electronic waste won't go directly into the landfill. We won't let these e-waste materials find their way to seep into the soil and waterways. 
Aside from the obvious benefits of electronics recycling, we are helping entrepreneurs or business owners have some extra cash out of outdated IT assets. We ensure Rio Dell computer recycling to be effective and efficient. 
Both big and small companies have realized that e-waste recycling is a sound financial source to recoup the money they have invested for those IT assets. They can save a great deal or amount of money by recycling old IT equipment. 
All Green Electronics Recycling doesn't just recycle products without following certain guidelines or processes. We make sure our processes follow EPA guidelines. 
We're a company that cares so much about data privacy of our clients. Our data destruction is guaranteed to be 100 percent safe from data theft or breach. 
Rio Dell Electronics Recycling Locations
We've got your back once you're ready to hire us to recycle your unwanted electronics or to destroy data. Contact us to schedule a pickup today or find a drop-off location nearest you.