Electronics Recycling Newman Services By All Green
Uncontrolled accumulation of electronic devices in your home or office is part of major issues associated to solid management. In this place, All Green operates to provide a professional help to control and manage well all e-scraps through our
Electronics Recycling Newman Services
. This is to help the residents and business people of Newman recycle their old electronics.
Newman is a city in Stanislaus County with 10,224 residents. It is home to West Side Theatre and is located near George Hatfield State Park and the St. Luis Reservoir. With us, you can easily help in keeping this city clean and free from the possible dangers of e-scraps.
Recycle Electronics Today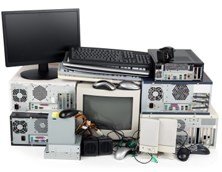 It is important to recycle end-of-life electronic devices. Why? They are highly toxic to the environment and they can even cause human diseases if not addressed. All Green
Electronics Recycling
has a tested solution. With our globally recognized ITAD Solutions, recycling and remarketing your old electronic products can be done with convenience. By scheduling an e-waste pickup today, you're taking one step forward towards the achievement of a clean and green world. Another option for you to reach us is to find a near drop-off location. We will attend to your needs wherever you are in this city.
Newman Electronics Recycling
The explosive growth of electronics industry has caused problems since the past years. There are already some legislative agenda to prohibit the improper dumping of electronic waste in the landfills. Now to avoid an old laptop, for example, from making its way to a landfill, embrace All Green proven solution. We can help you earn money out of reselling your fully refurbished computer unit. We're giving out a maximum of 70% from the total resale value through our IT Asset Remarketing Program. What are you waiting for? Contact us now and let All Green help you with its tested e-waste recycling services.