Electronics Recycling Murray Hill Services, NY
Murray Hill is located in Midtown Manhattan that houses the L-3 Communications headquarters. 
Electronics Recycling Murray Hill
is crucial to reduce the growing e-waste in the city. One cannot discredit the plethora of benefits this electronics recycling can do to reduce pollution and conserve raw materials.
Raw materials are being exhausted to manufacture high-tech products that will be used in various industries and consumer products. The demand for latest technology has been increasing, but the supply for raw materials to produce those items are continuously depleting over the years. Recycling electronics can help mitigate the risks of depleting our natural resources just to produce latest electronic items such as mobile phones, tablets, and computers. 
Despite the challenges in managing e-waste problem, All Green Electronics Recycling is optimistic  in pushing all of its efforts forward. This company believes that electronics recycling is critical to reducing the reliance on raw materials and to protecting the environment from the serious effects of global warming.  It requires cooperation from everyone — companies, consumers, government, and stakeholders — to work together to save the environment. We encourage everyone to send their old electronics to recycling centers, so the materials from those junk will be recovered and reused. 
It's possible that we get a sustainable way to produce the latest technology that will help improve our lives, without compromising the availability of raw or virgin materials. 
Electronics Recycling Murray Hill is the first step for its residents to take part in the bigger vision of saving the environment. 
Recycle Electronics Today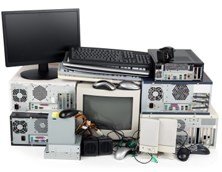 Some people don't see, or wish to remind blinded, on the benefits of recycling electronics. In fact, electronics recycling will help address the growing demand for electronic products since we're in the age when technology is taking over at faster rate. 
Many of us buy new gadgets without asking where those old units or models go. 
As a responsible consumer, you need to ask yourself what you can do to improve things. Yes, no one's preventing you from buying the latest or the most expensive mobile phone unit today. But you need to do your part to send those old electronic items to recycling companies like All Green Electronics Recycling. 
We are doing our best to increase awareness for people to realize that recycling will lessen the dependence on virgin materials and this will reduce the impact on climate change. 
If you care for the only planet where you live, you need to do your part. 
Murray Hill Locations
We are serving Murray Hill and the rest of  the states nationwide. Contact us to schedule a pickup or locate a drop-off nearest you today.