Electronics Recycling Manhattanville Services By All Green
With All Green, reusing and remarketing electronics in Manhattanville is easy and efficient. Our Electronics Recycling Manhattanville Services can assure you that you can have the best results with us. We have the best solution for your e-waste problems.
This neighborhood is located near Harlem in Manhattan and is the site of the planned expansion of Columbia University. In order to help keep Manhattanville clean and e-waste free, you can follow the link given below to start recycling your electronics responsibly.
Recycle Electronics Today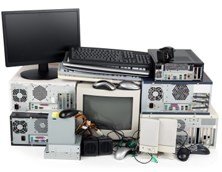 Our presence in this location is an opportunity if you wish to recycle any electronic devices. The presence of lead, mercury, and cadmium in the end-of-life IT equipment can pose an imminent danger to the environment, because they are highly toxic. This is why you have to schedule an e-waste pickup now, or you have to find a near drop-off location. Our recycling team knows what to do with your electronics to avoid environmental damage.
Don't throw your electronics in the trash bin. Instead, you have to trust us and our professional e-waste recycling partners. With our offered solution, the results are guaranteed to correspond to what you're looking for. We can work together to help protect Mother Earth from total destruction as we provide ways, through our certified electronics recycling program, for the obsolete IT equipment to not reach any landfill, including those located abroad.
Manhattanville Locations
There is a massive campaign for old electronics to be recycled, reused, or remarketed. There's a global demand for people to practice responsible recycling of electronic waste. Wherever you are in Manhattanville, you can try our tested solution. It's definitely easy to work with our teams. We have people who work 7 days a week and we have many pickup trucks. All Green is a certified company that can serve any size organization. 
Shred the Hard Drives, Remarket Your IT Asset
Shredding the hard drives is part of our services. Why shredding is important? Every computer hard drive is crucial. There data about your business, like the personal profiles of your customers, must not be divulged to the public. Passing along the private information that is stored in any digital media portals is a grave offense. To ensure that your privacy is protected, our secure data destruction and hard drive shredding is the ultimate answer. With us, your sensitive data will permanently be deleted. 
After the shredding process, you can trust us when it comes to finding ways to maximize your gains out of your old computers and other disposable IT equipment. All Green guarantees best results with our proven and tested IT asset remarketing approaches as part of our Electronics Recycling Manhattanville Services. 
All you have to do right now is to contact us if you want to have our free quotes. All Green is a trusted company in the e-waste recycling industry.