Electronics Recycling Koreatown Services By All Green
Electronics Recycling Koreatown
is possible to be simple and efficient. This place is teeming with Korean restaurants and businesses. Its dense population should be taken into consideration to keep a manageable volume of e-waste in the city. 
Responsible electronic waste management and recycling is essential to protect the deterioration of the environment due to toxic greenhouse gas emissions. All Green Electronics Recycling caters to both individuals and businesses to reduce the percentage of e-waste that pile up in landfills every day. 
Recycling electronics is associated with eco-friendly practice to ensure that those harmful materials won't leak into the soil, air, and water. Dismantling old electronics usually needs a machine to operate everything.
If you're still unaware of electronics recycling Koreatown, it's best that you take note of its many benefits. First, electronics recycling reduces the depletion of natural resources. Electronics contain some important materials such as plastics, glass, and metals that can be reused to create new products. Mining is used to tap the raw materials that will be used later on to create new electronic products. When you recycle, you are helping the earth from exhausting its minerals just to produce the latest mobile phones or gadgets. Second, recycling reduces the serious pollution problem in the world. The toxic chemicals such as lead, chromium, phosphor, and barium release harmful chemicals that can pollute the air, land, and surrounding waterways. Third, electronics recycling helps you reduce the clutter inside your home. It's very common for most people to keep those old electronic items inside their home, hoping that they can have them repaired one day. Some are unaware on how to dispose those old items, while some simply want to keep them as souvenirs. Residents who take advantage of our Koreatown electronics recycling will have all their unwanted electronic recycled instead of letting those sit around their house for years.
Recycle Electronics Today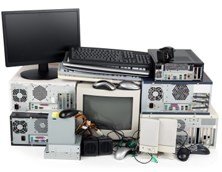 Electronics recycling is very important especially for businesses to clear out the office space from junk. We are helping businesses make most of end-of-life electronic products instead tossing them out or storing them inside the closets or cabinets. Employees should not cramped inside a small office and share space with an old copier or printer. With us by your side, you can have us recycle about any type of electronic items that can give you a return on investment. 
Another thing businesses are worried about are cyber attacks. This is the other good side of electronics recycling that it protects confidential information from computers, hard drives, and other storage devices.
All Green Electronics Recycling guarantees Koreatown Data Destruction and industry-standard electronics recycling. We follow ethical and safe ways for Koreatown Hard Drive Shredding. 
We know that running a small business means time, money, and energy. We won't let you worry about the old or broken IT equipment you have in the office. Maybe you don't know what to do with them. Maybe you don't have enough time to deal with them. Electronics recycling is a solution we can provide you. 
Koreatown Locations
All Green Recycling  will recycle almost any type of electronic items. You can schedule a pickup or find drop-off location nearest you. Don't throw away electronic items right away. Contact us now and allow All Green Electronics Recycling to do its job.