Electronics Recycling Hudson Yards Services, NY
Wherever you are in Hudson Yards, All Green can serve you if you wonder what to with your electronic waste. Our
Electronics Recycling Hudson Yards
is convenient, hassle-free, easy and efficient. We can provide you the best results you want to enjoy. Our e-waste recycling solution is the ultimate answer that responds and addresses the issues associated to irresponsible electronics dumping.
Hudson Yards is a neighborhood that is near Javitz Center. It offers New American pub grub, jukebox, and drinks. This place encourages business development on Manhattan's far West Side. The accumulation of electronic waste in this area is evident. To help keep this location clean and e-waste free, we have a globally recognized ITAD solution for you. Click on the link given below to schedule an e-waste pickup today.
Recycle Electronics Today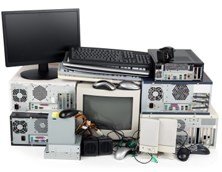 We have the proven and tested ways on what to do with your old electronics. We will collect them right from your home or office and will recycle them for future use. Reselling them to an external customer is a priority goal. This way can help you reduce the cost of technology replacement, as you can earn as big as 70% from our IT asset remarketing program. After fixing and repairing your IT products and shredding the computer hard drives, you're also given an option to donate them to any charitable organizations of your choice.
You can schedule a pickup or you can find a near drop-off location. Our recycling team can help you benefit from proper e-waste recycling instead of just throwing the end-of-life IT materials in the trash bin or somewhere else. Electronics is highly toxic to the environment, but, with All Green, it's guaranteed that your disposable IT equipment will not reach any landfill in the country, or will not be transported overseas in order to avoid a careless e-waste dumping.
Hudson Yards Locations
The cities found on the map above are those to enjoy from the promised results of our Hudson Yards electronics recycling system. In terms of protecting your business brand from the imprudent dumping of hard drives and SSDs anywhere, our certified data destruction and secure hard drive shredding is the ultimate solution. The sensitive data and files about your business customers can be safe as our modern shredding equipment can permanently erase and wipe the digital data.
We serve not only the entire United States but also the other countries in North America. We have a wide network of recycling agents and partners. For your queries about our Electronics Recycling Hudson Yards Services, contact us today.