Electronics Recycling Hudson Heights Services By All Green
Recycling electronics in Hudson Heights is easy, efficient, convenient, and hassle-free with All Green. Our e-waste recycling solutions are tested and proven. We provide best results from the collection of your end-of-life IT equipment, to transportation, repackaging, refurbishing and repair, and remarketing. Wherever you are in this area, our Electronics Recycling Hudson Heights Services can help you achieve your business goals in terms of recycling and reusing old electronics. 
This neighborhood is located in Upper Manhattan and is a sub-neighborhood of Washington Heights. To help keep Hudson Heights clean and e-waste free, trusting All Green is recommended. 
Recycle Electronics Today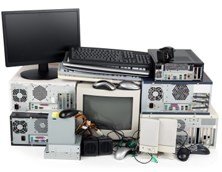 Why do proper e-waste recycling? Recycling old computers, mobile phones, telephones, fax machines, and TV sets is important to the environment. The presence of hazardous chemicals in IT equipment can be avoided if we will recycle any electronic devices. What to do? You can schedule a pickup today, or you can find a near drop-off location. Your electronics must not be thrown in the garbage bin or should not be dumped in the landfills anywhere in the country. To keep the electronics' highly toxic materials away from the environment, you need to rely upon the expertise of All Green Electronics Recycling. We guarantee to provide you the best results the moment you have to recycle and reuse your obsolete electronic devices. 
Hudson Heights Locations
All businesses within the premises of Hudson Heights and near this sub-neighborhood can trust our e-waste pickup service. All Green is a certified company that has world-class IT asset disposition, equipment destruction, data destruction, and hard drive shredding. Our goal is centered on one thing – we want the business owners and residents of this area have the best e-waste recycling solution. 
Being in this industry for many years now is a guarantee that we can serve our customers with 100% satisfaction. We want to give you comfort and convenience. Wherever you are, regardless of what you do, our recycling team can pick up your end-of-life IT equipment and can bring them in our centers with cutting edge facilities. 
IT Asset Remarketing At Its Best
After you call the attention of our recycling team for an e-waste pickup, we will then determine the value of your IT asset that is still marketable. We will refurbish and repair it to attain the possible highest reselling cost. From the total revenue, you can gain as much as 70%. 
Protect yourself from having risks due to stolen data about you or your business. To do this successfully, our hard drive shredding service is the answer. On-site, off-site, we can shred your hard drives in order to permanently delete those sensitive non-public files. 
If you want to inquire about the free quotes of our Electronics Recycling Hudson Heights Services, you can contact us now. Today is the right time for you to start minimizing the business cost of technology replacement while maximizing the gains of remarketable IT equipment.