Electronics Recycling Gloversville Services, NY
All Green proudly serves the residents and business people in this place with a premium e-waste recycling service. Our
Electronics Recycling Gloversville
is designed to make this city e-waste free and clean. Gloversville is located in Fulton County and has a population of over 15,000. With our proven and tested e-waste solution, the problems associated to irresponsible electronic waste dumping can be addressed. 
Recycle Electronics Today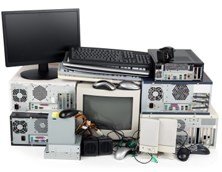 We closely work with our ITAD customers limiting any interruption. Our main goal is to protect your business brand through giving you the highest possible returns with our IT asset remarketing program. We will collect, recycle, repair and refurbish, and repackage your end-of-life IT device.
You need to schedule a pickup today, or you have to find a drop-off location. Keep in mind that throwing your electronics in the trash bin has a strict prohibition by environmental advocates. Hence, some states have laws and regulations about proper recycling of e-waste. All Green answers the high demand to recycle and reuse the electronic equipment that is highly toxic to the environment. The thing that we can guarantee is that your electronic devices will not reach any landfill, and will not be transported abroad for an irresponsible e-waste dumping.
Gloversville Locations
If your neighborhood, community, or city is listed above, you're near from our world-class electronics recycling in Gloversville. This is a response to the growing demand of proper recycling of all electronic products all over the world. This city among others is lucky to have All Green IT asset disposition services, which aim to alleviate and even mitigate the impacts of uncontrolled dumping of electronic products in the landfills. 
Hard Drive Shredding, IT Asset Remarketing At Your Service
Before reselling your obsolete yet recyclable IT product, i.e. computer unit, to an external customer, there's a need to permanently delete the sensitive files contained and saved in the hard drives and other digital media portals. Our hard drive shredding and data destruction is fully secure and certified. You can trust us to execute the things that are necessary for either on-site or off-site shredding procedures. 
After shredding, your IT product is ready for reuse, reselling, and even for donation purpose. We will do the right packaging to achieve the highest resale value potentiality. By this way, you can gain as big as 70% from the total reselling price. 
Contact us today if you want to know more things about our Electronics Recycling Gloversville Services.