Electronics Recycling Glenn County Services, CA
If your city is not listed or far from the nearest drop-off location of Electronics Recycling Glenn County, then request a pickup from your home or business by following the link below.
If you're a resident of Glenn County, California and you need a tested e-waste recycling solution provider, All Green Recycling is proud to serve you. If you have a business that requires hard drive shredding, data destruction, and
IT asset remarketing
, we can provide you these services. 
Glenn County is located in the Sacramento Valley region of California and is home to 28,122 residents. It has just two incorporated cities, Orland and Willows. With All Green, you can help keep this county clean and free from hazardous e-waste.
Recycle Electronics Today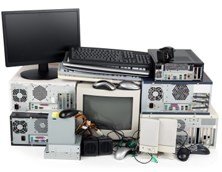 Recycling electronics is simple, hassle-free, and eco-friendly process but only if you work with a company with proven track records. We collect, recycle, refurbish, repackage, and remarket your used electronics. Through our electronics recycling system, we can have new set of IT materials that are suitable for reuse and through remarketing or donation. This is our goal, to turn your electronic disposables into a stream of useful commodities.
We have so far raised the bar of excellence in the electronic waste recycling industry. We deeply understand the value of "Reduce, Reuse, Recycle" System. That's why our practice is inclined towards the protection of environment and human health. All our services are complying with all existing EPA rules, regulations, and guidelines. We can handle all the old IT equipment with hazardous materials properly, professionally.
Glenn County Electronics Recycling
Secure Glenn County Data Destruction and Hard Drive Shredding
Electronics Recycling Glenn County Services cover secure data destruction and certified hard drive shredding. This is to help you delete your sensitive data and information that may affect your business. Before subjecting any IT equipment to remarketing process, we're making sure that all your personal data, like private images, will be deleted permanently from the hard drives, SSDs, and other digital data media.
If you want to inquire for further information, just feel free to contact us anytime. Our services intend to help you recycle, remarket, donate, and even destroy your IT equipment in a professional way.