Electronics Recycling Flatiron District Services, NY
Flatiron District is located in the beautiful Manhattan. The establishment called the Flatiron Building is its namesake. With the help of All Green
Electronics Recycling Flatiron District Services
, the residents of this place will find it easy to de-clutter their old electronics and send them for recycling. 
Electronics recycling in Flatiron District limits the impact on natural resources and the environment itself. Reusing precious materials, like platinum, silver, and gold, can help save a large percentage of raw materials. Mining will be reduced since those metals found in circuit boards can be reused to manufacture new products. 
Recycling will preserve the environment and protect public health. The toxic or hazardous elements found in electronic items contain lead and mercury. Circuit boards are made from chromium and cadmium; they may contain mercury and lead, too. These hazardous materials may leak out and emit the content into the air, soil, and water supplies. Recycling those items, however, will prevent those toxic materials from polluting the environment. 
Proper and efficient Flatiron District Electronic Waste Disposal also contributes to building the community.  Always make sure to have your old electronics recycled when updating to new models or when they simply broken down.  
Recycle Electronics Today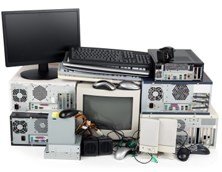 There comes a time when electronic products go out of fashion, and you'll feel the need to buy the latest in store. This is also true when they are no longer functioning. 
Our Electronics Recycling Flatiron District follows strict regulations. Old electronic items are collected through our drop-off centers or are picked up from businesses or residential locations. Those materials are then moved to our recycling facility where they are sorted out and cleaned. They are then forwarded for processing or manufacturing.
The manufacturing process is where those electronic items are converted into new, functional items. Important materials such as copper, silver and gold are harvested from those electronic items and they will be forwarded to our partner companies or secondary recyclers for further processing. These secondary recyclers or raw material buyers reuse the harvested materials to create new products. 
To secure data privacy, we shred hard drives and SSD to prevent them from being accessed by other people. 
It's never too late to get involved in Flatiron District Electronics Recycling. Have your old electronic items sent to us for recycling and you'll get to have your part in protecting our environment.
Flatiron District Locations
You don't have to exhaust your money on gas just to go to our recycling center and leave us your electronic items. 
We will pick up your items so you don't have to spend anything. That way we'll be able to convince you to support our program.
Contact us now if you want to know about the free quotes of our Electronics Recycling Services in Flatiron District, New York.