Electronics Recycling Carnegie Hill Services, NY
Are you looking for the right company that will help you recycle and remarket your obsolete IT equipment? All Green Electronics Recycling is now in Carnegie Hill, New York. We have a well-designed program for you. Easy, hassle-free and convenient, you can have peace of mind with our Electronics Recycling Carnegie Hill Services.
This neighborhood is located on the Upper East Side of Manhattan and is home to the Cooper-Hewitt, National Design Museum, a branch of the Smithsonian Institution. You can now help in keeping Carnegie Hill clean and e-waste free.
Recycle Electronics Today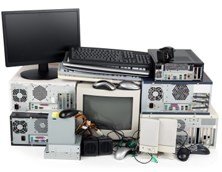 All Green Electronics Recycling is more competitive than the other e-waste recyclers in the country. We have more pickup trucks and our network is more extensive than theirs. We work 7 days a week to collect, treat, and recycle any electronic device.
What to do now? You have to schedule an e-waste pickup today. Or, you can find a near All Green drop-off location. Just work with us in protecting Mother Nature by way of recycling. All hazardous materials must not find their way to the landfills here and abroad. Our services are real solutions.
Carnegie Hill Electronics Recycling and IT Asset Remarketing
Almost all old electronics is recyclable and re-marketable. So why junk them or place them in your basement or stock room? We're here willing to help you. Our ITAD Solutions and IT Asset Remarketing Services can help you gain a maximum of 70% from the total net revenue after your refurbished IT products are sold again to external buyers. About the sensitive data and information in the hard drives, we have a secure data destruction and hard drive shredding services. On-site or off-site, those data will not be leaked nor hacked by a third-part individual.
Contact us today to learn more details and information.